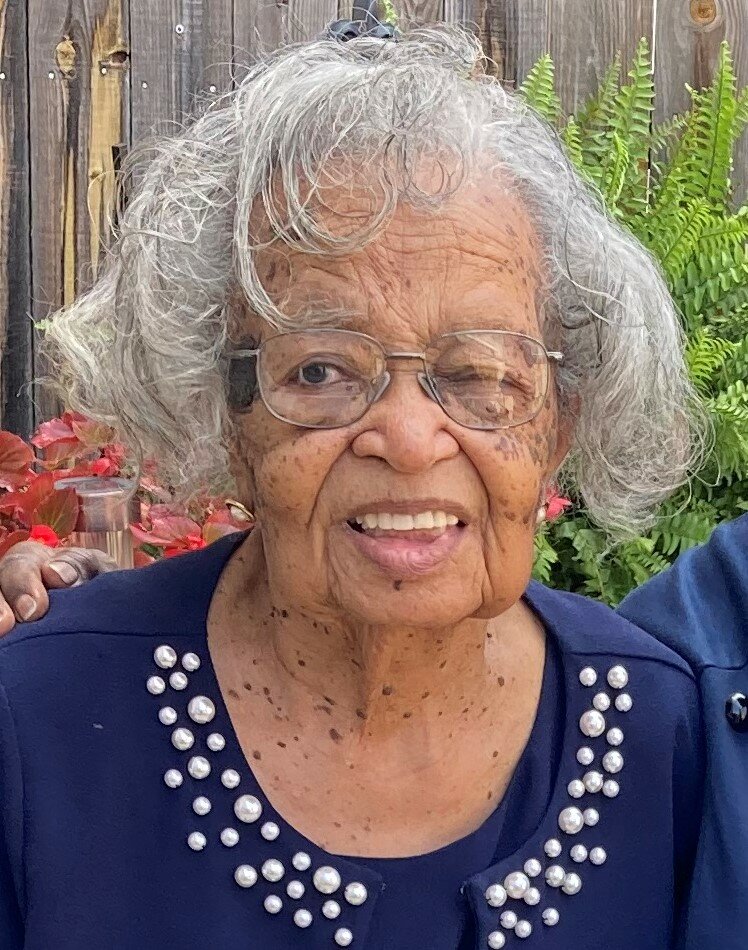 Obituary of Lois May Taylor
Please share a memory of Lois to include in a keepsake book for family and friends.
Lois May Taylor was born on February 27, 1927, in Denver, Colorado, as the second of six surviving children to the union of Essie Lee Morgan and George W. Dickerson. Lois was delivered by the first licensed Black female physician in Denver, Dr. Justina Ford, at the family home at 3443 Franklin Street. Her father, George, provided for the family by servicing rail cars at Union Station, and her mother, Essie, was a loving homemaker who later received training to work in nursing. Along with her five siblings–Sara, Wilma, Laverne (Dot), George (Bubba), and Charles, Lois enjoyed a tight-knit, warm, and loving family life. She often commented how unaware she was of the impacts of the Great Depression because her family already had so little in terms of financial resources; her parents provided the family with all of their basic needs, strong Christian values, security, and plenty of love and togetherness. Lois fondly remembered that when she was 8 years old, her mother took her to get her first pair of glasses. They had to rise at dawn and walk a distance across Denver through City Park, just the two of them, to get to the appointment. Being from a family of eight, Lois deeply cherished this special alone time with her wonderful mother. Lois was a good student who developed a keen mathematical mind and enjoyed her time in school, graduating from Manual High School in 1944. After high school, Lois worked at a war factory in Cheyenne, Wyoming along with her sister, Sara. After the war, she worked at the Gates Rubber Company where she especially enjoyed working with her hands. During her time of being a single young adult, Lois was proud to help support her family financially. Leisure time was spent taking road trips, hanging out, and going to clubs and shows in the Five Points area with her best friends, Marge Howard and Jeri McDonald. Lois was a co-founder of the Altruistic Club, a social club and volunteer organization for Black women that also hosted elegant events for the Black community of Denver. After being introduced by mutual friends, Lois married William Taylor, III on Valentine's Day in 1957. Together they had two children, Kristi Lee and William Wesley (Butch). As a wife and mother, Lois created a homelife for her family that was calm, carefree, and filled with warmth. She was an exceptional cook, and the immediate and extended family consistently enjoyed great meals and fun times. Lois had a beautiful singing voice and a great love for a wide variety of music which she passed on to both of her children. She was a neighborhood mom to both Kristi's and Butch's friends, many of whom commented on how welcoming and kind she always was to them. Both of her children appreciated how she instilled a work ethic in them by teaching them basic household skills from their early teen years and giving them responsibility for doing their own laundry, cooking their own meals, and shopping for their own clothing. Lois was truly a Renaissance woman who–in addition to managing a household and working a full-time job–almost single-handedly remodeled and paneled the basement of the family home. Lois never lost her love for working with her hands. From their earliest days to the present, her children's memories are of a doting mother who was utterly committed to their well-being. Her wisdom, gentle care, and loving touch helped shape and guide them in life. Though in many ways a homebody in her adult life, Lois actively participated in a local bowling league for many years. She enjoyed the physical energy and competition of weekly bowling games with her friends. In addition to her bowling hobby, Lois had a small penchant for gambling. She enjoyed occasional trips to Central City and Blackhawk to play the slot machines, which she referred to as "going to the hills". As the years passed, Lois remained very close to her mother, her siblings, and their families. Over time, Lois quietly took on the role of being a matriarch to her extended family by providing support when needs arose. Her calm demeanor, wise counsel, and financial savvy made a positive difference in the lives of many of her relatives. She was a willing host for many holiday gatherings and family get-togethers for both sides of the family. Lois returned to work in the mid-70's and worked as a state employee before landing a job as a federal employee at the Air Force Finance Center. She enjoyed the opportunity to apply her brilliant mind and mathematical skill as an accountant for the Federal Government. Lois retired from the Finance Center in 1988. Lois' retirement commenced just in time to support her ailing mother and to assist with raising her first grandsons, Justin and Devin. When both of her children married, Lois joyously welcomed Kirk, Kristi's husband, and Jessica, Butch's wife, into the family. As more grandkids and great grandkids were born, Lois cherished her time in their presence and showered them with gifts. During later years, she lovingly cared for her husband after he developed Alzheimer's disease and eventually passed in December 2008. After Wesley's passing, she occupied her time attending church activities, doing crossword puzzles, cooking, balancing her checkbook, paying bills, and still repairing and maintaining things around the house. Lois was a faithful member of Central Baptist Church for approximately 85 years and her faith was the foundation of who she was. She was a longtime choir member, served on numerous committees and attended church regularly dressed to the nines. In later years, she was honored to be installed as an official Church Mother. Over the years, Lois maintained a tight-knit circle of friends and relatives. They consistently described her as kind, caring, and loving. Her lasting impact to many who knew her was that she always offered a smile or maybe a bit of wisdom and would provide any kind of support that was needed to her loved ones. As a result, many of her sisters, nieces, and nephews looked up to her as the matriarch of the extended family. Throughout her life Lois was a quiet force, exerting her will and influence in the most patient, kind and yet powerful ways. It is hard to imagine a person with a purer soul of goodness walking this earth. Lois aged gracefully and eventually developed dementia. After a three-year decline, she peacefully passed into the Lord's embrace at her home of 65 years on July 27, 2022, at the age of 97. She was preceded in death by her husband, William W. Taylor, III; her parents George and Essie Dickerson; her sisters Sara Holt, Wilma Howard, Laverne (Dot) Clark, and her brothers Charles Dickerson and George (Bubba) Dickerson. Those left to cherish her memory and live out her legacy include her children, Kristi (Kirk) Gray and William (Jess) Taylor, IV; her four grandchildren Justin (Jeneva) Thaxton, Devin (Heather) Thaxton, Liam Taylor, and Evan Taylor; her five great-grandchildren Kenny, Taylor, Justis, Payton and Penelope (Penny); and many nieces, nephews, and friends.
To send flowers to the family or plant a tree in memory of Lois Taylor, please visit Tribute Store
Share Your Memory of
Lois